Case study - GSM Repairers Association: Building capacity and creating opportunities for mobile repairers in Nigeria
Written by Y. Z. Ya'u, Centre for Information Technology and Development (CITAD)
| | |
| --- | --- |
| Project / Programme | GSM Repairers Association |
| Region / Country | Nigeria |
| Website | None |
| Circularity | Extending the useful life of mobile phones; building capacity and economic opportunities; e-waste |
Overview
Nigeria does not manufacture or assemble mobile phones, although it has four major companies undertaking the assembly of laptops and desktops.[1] As awareness about the economic uses of handsets has increased, affordability has decreased, especially following the downturn of the economy. One response to this has been the rise of the repair sector, and with that, a boom in the second-hand market for handsets. The repair movement can be seen as a seed for the circular economy in the information and communications technology (ICT) sector in the country. This is a national phenomenon, but most notably seen in the state capitals where population densities are higher. As a result, several mobile repairers' associations have been formed across the country, with one, the GSM Repairers Association, having a national footprint.
About the project
Nigeria launched its GSM networks in 2001 following the sale of licences within the framework of the deregulation of the telecommunication sector. While the number of networks has remained stabled at four, there has been rapid growth in the subscriber base. As of June 2020, there were over 190 million subscribers according to the telecommunication regulator, the Nigerian Communications Commission (NCC).
These users of mobile phones are dependent on the importation of handsets, since the country does not manufacture them. As early as 2002, a number of artisans learned to repair handsets, and began organising as groups to both upgrade their skills and improve the conditions under which they worked.
As a result, several mobile handset repairers' associations have been set up, such as the National Association of Mobile Phone Engineers and the Association of Handset Hard and Software Repairers. The GSM Repairers Association, which is represented nationally, has chapters set up in Lagos, Katsina, Kano, Abuja and Yobe, among other cities.
Catalysing experimentation and capacity building
The objective of the association is to provide a platform for the mobile phone repairers to advance their business interests, including creating opportunities for them to enhance their skills. Starting with just a few members in one location (Lagos), today the association has expanded nationally with over 80,000 members across all the states of the federation. They have local chapters in nearly all the 744 local governments of the country.
What is significant about their initiative is that the local associations serve as a laboratory for experimentation and capacity building. It has transformed the GSM repair activities from the work of artisans to that of highly trained and skilled technicians capable of working in a factory in an advanced technology environment. For example, it has allowed them to understand the key technical differences between the major mobile handsets, as well as helped many of them to transition from computer repairs to the repair of handsets, which has included a shift from mechanical repair to software diagnostics.
Experimentation has included the extracting of battery cells and using them to power household lighting and appliances like fans, creating booster batteries from unused cells, and adapting IC jacks to fit any phone.
Most GSM repair activities take place in designated government buildings that serve as workspaces, but there are also informal spaces that are used. Some repairers, especially women, work from home. Although there is gradual shift to factory settings compared to five years ago, this is not yet widespread.
The mobile phone repair market in Nigeria
The mobile phone repair market has emerged as a key sector of economic activity, technical skills transfer and business incubation. Although largely involving the informal sector, it is segmented along three levels.
At the top, there are a few formal business repairers engaged in the more technical aspects of repair. They form a separate association called the Mobile Handsets Repairers. They are mostly concentrated in Lagos and usually, in addition to repair, they also sell handsets. There is also a tentative entry by the big players. For example, Cellular Services Logistics (CSL), a subsidiary of the Phillips Project Centre, has set up a plant to repair and refurbish assorted mobile handsets in Lagos.
At the second level are those who work in state-designed repair centres and belong to the GSM Repairers Association through their local chapters. These are individuals, not formalised companies, who do repair work and sell second-hand handsets and accessories.
The third level consists of those not affiliated to any of the associations mentioned above and who undertake their repairs in premises outside government centres. These are mostly to be found outside the state capitals but also in several neighbourhoods within the major cities.
Levels of training in the sector
A variety of training is provided by many actors in the repair economy. First, there is an artisanal-based training in which a learner goes to a master to learn under an informal arrangement. A number of training organisations, including civil society organisations, also providing training. This is mostly funded by either politicians or the government under their youth employment programmes. For example, in 2018 and 2017, CITAD was contracted by the Kano State Government to train 1,000 and 500 youths, respectively, in mobile phone repairs, after which the state government handed them repair kits along with money to rent shops to set themselves up.
Vendor-oriented training is offered by many of the members of the Mobile Handsets Association.
Consistent with the government view of mobile handset repair as a way of promoting youth entrepreneurship, the National Directorate for Employment, which was established in 1987, added mobile repair training as one of its training offerings for youth, providing additional support under its Resettlement Loan Scheme.
Through the Federal Ministry of Education, it has also incorporated training into the educational curricula at secondary school level. All students theoretically have the opportunity to take this as an elective subject. However, in reality very few schools have the tools and equipment as well as the teachers and technicians to provide reasonable training to students, beyond just passing the exams.
On 13 September 2020, the National Information Technology Development Agency in partnership with the Nigerian Content Development and Monitoring Board started training 1,000 youths in GSM repair online.
Mainstreaming mobile repairs
There are important outcomes resulting from the formation of the GSM Repairers Association. The first is that today, across the breadth of the country, there is virtually no community where repairs of mobile handsets cannot be found. They have helped to disperse skills and knowledge through their activities, meeting national needs for the repair of mobile handsets. The second is that, through its training activities, the association has led to the creation of several training programmes with a specialisation in hardware and software. The training programmes have led to well-developed programmes being offered by bigger companies and now by government ICT and job creation agencies. The initiative has also led to the mainstreaming of mobile repairs as one of the subjects being offered in secondary schools in the country. The initiative has also resulted in multinational companies offering a specialisation in spare parts supply-chain management for the repair of mobile phones. This in itself has opened up a new line of business activity.
Challenges
However, the association has also faced a number of challenges that need to be understood if the right lessons are to be appropriated to promote the circular economy. One negative outcome is that because of the skills that the initiative has generated, bigger companies have leveraged this and are setting up major repair subsidiaries. This will impact negatively in terms of the ability of the initiative to absorb a large pool of unemployed youth, since the bigger companies with more resources can source better equipment and tools and be more productive than the individual or cooperative repairers. This will also slow down the speed of the dispersal of skills in the society.
There is also a need to educate members of the GSM Repairers Association across the country about potential health hazards and safe disposal methods of e-waste, and to regulate how the members of the association operate. Because it arose independent of the government, there is hardly any regulatory framework to govern it, nor policy planning that can capitalise on the initiative and enhance the national move to a circular economy.
Finally, there are far fewer women working in the sector compared to men. Those that do mostly operate from home with limited access to clients and market share. The key challenge to the repair sector in Nigeria is the inclusion of women.
Conclusion
Despite several avenues for mobile repair training and support offered in Nigeria, the GSM Repairers Association plays a critical role. Nevertheless, as outlined above, there are important issues that need to be addressed. While the government needs to properly enforce its e-waste policy, it also needs to shift from seeing repairing as merely a job creation opportunity, to seeing it as an embryo for building the national capacity for a circular economy in the ICT sector. The government may also need to protect repairers against manufacturers who may want to slow down the growth of the repair and reuse movement through their product design. A civil society voice insisting on the right to repair has not yet developed in the country, but is crucial in this transition.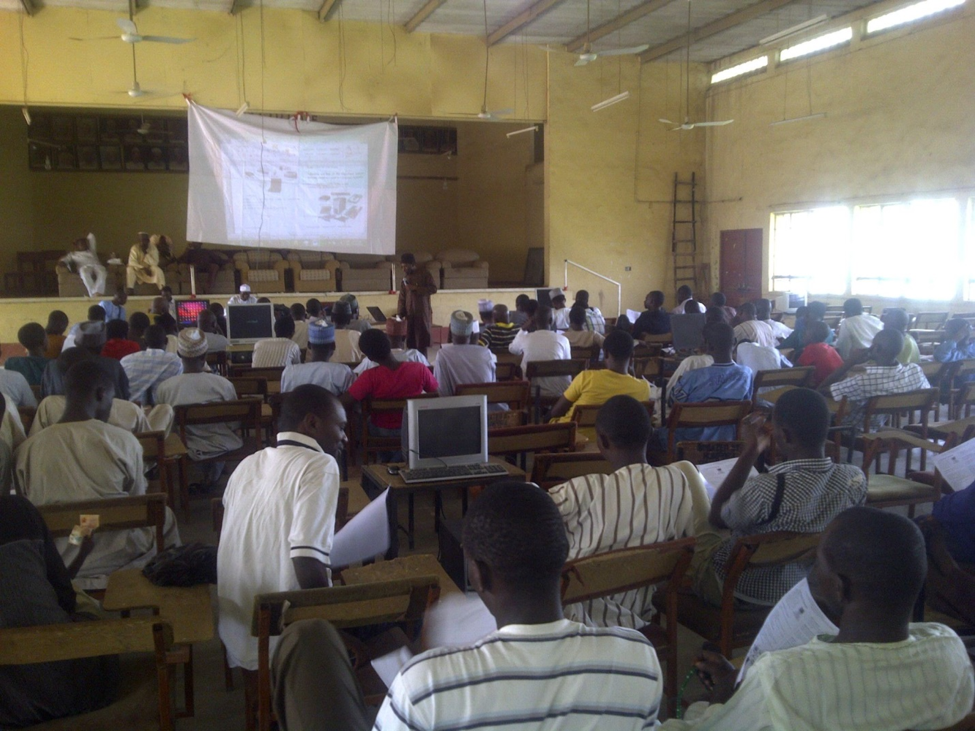 GSM repair trainees in a classroom.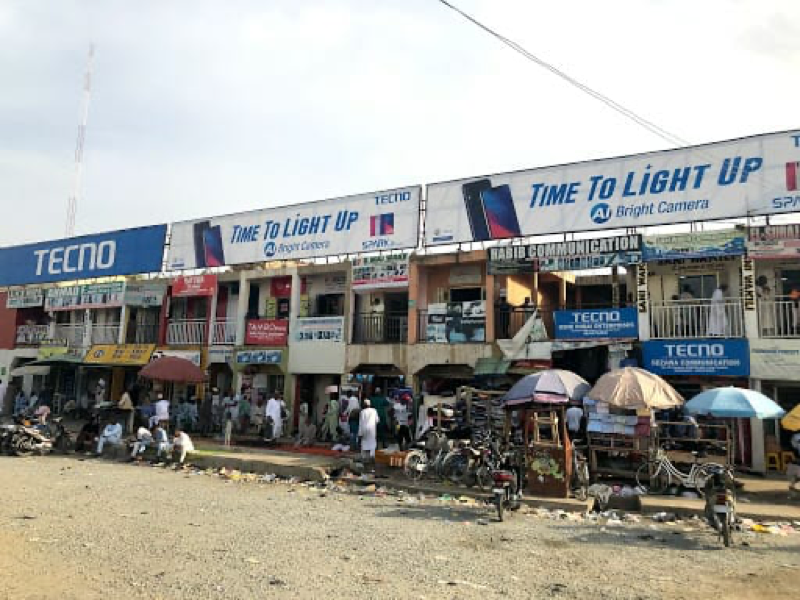 Front view of a GSM repair estate/market in Kano.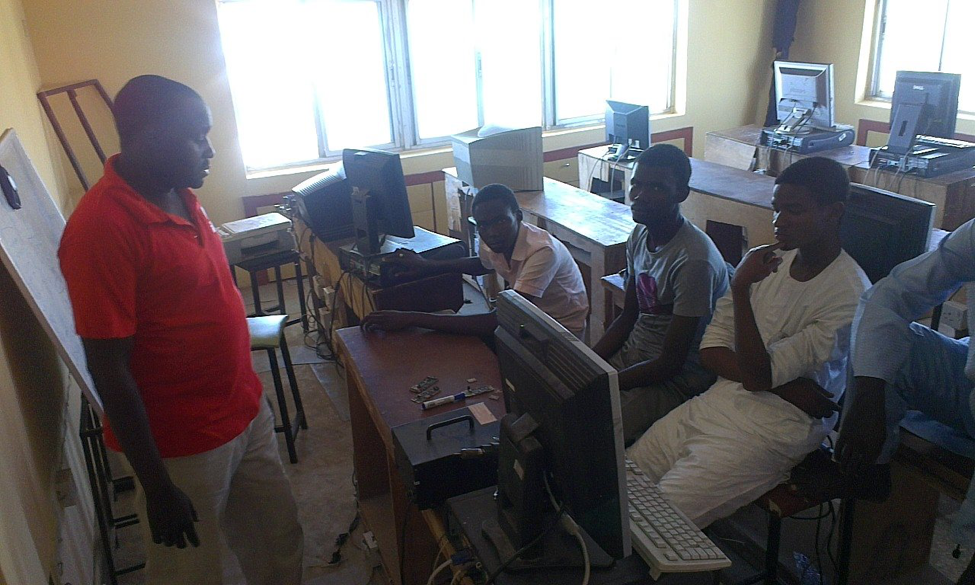 Members of the GSM Repairers Association undergoing training.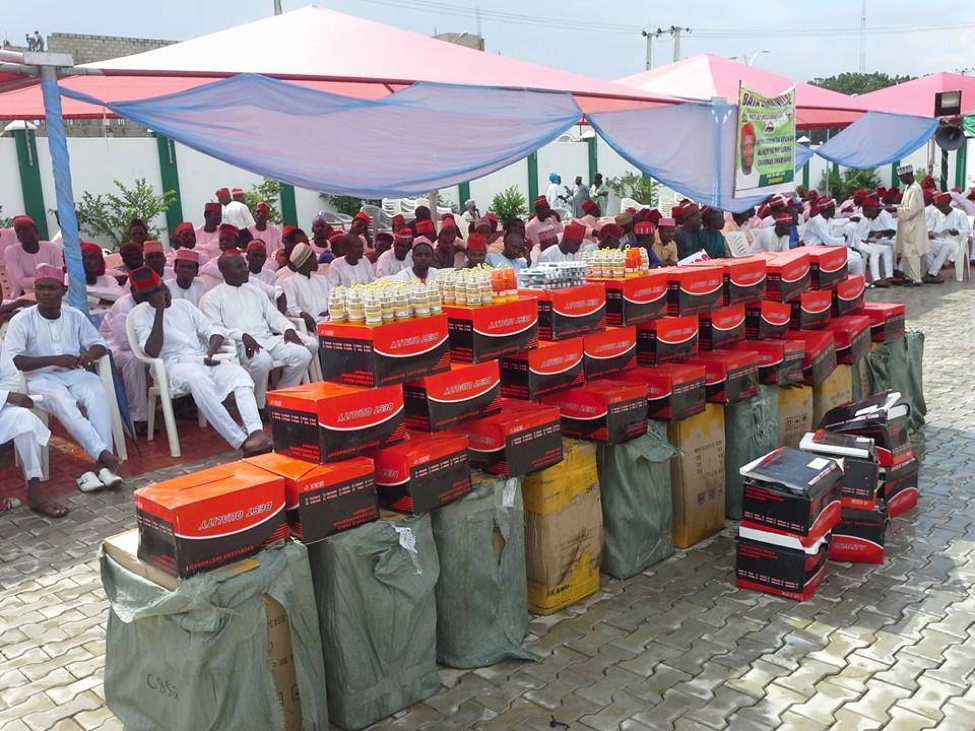 The Kano State Government distributed GSM repair kits to trained youth in the Government House.
References and further reading
Zonux: https://zinoxtechnologies.com
Beta: https://www.beta-computers.com
Omatek: https://omatek.ng
Brian Integrated Systems: https://brianintegratedsystems.com
National Directorate of Employment Vocational Skills Development Programme: https://nde.gov.ng/programs/vocational-skills-development-programme-vsd
From Global Information Society Watch 2020, see related country reports for:
Argentina: https://www.giswatch.org/node/6265
Bangladesh: https://www.giswatch.org/node/6266
Costa Rica: https://www.giswatch.org/node/6267
Democratic Republic of Congo: https://www.giswatch.org/node/6232
India: https://www.giswatch.org/node/6234
Nigeria: https://www.giswatch.org/node/6237
Footnotes
[1] These are Zinox (https://zinoxtechnologies.com), Beta (https://www.beta-computers.com), Omatek (https://omatek.ng) and Brian Integrated Systems (https://brianintegratedsystems.com).